Song stylist extraordinaire Rebecca Kilgore is the featured vocalist on the CD MOONSHADOW DANCE on the Cherry Pie Music label.
Released January 29, 2016, the disc features original jazz songs produced through a unique collaboration between Ellen Vanderslice, Mike Horsfall, and Rebecca Kilgore, with each partner contributing melodies, harmonies and lyrics.
The sixteen tracks span an eclectic range, from wistfully romantic through lushly introspective to upbeat and playful, with the common factor found in well-crafted songs given stellar performances.
The CD features Randy Porter on piano, Tom Wakeling on bass, and Todd Strait on drums, plus Mike Horsfall on vibes, Dan Balmer on guitar, Israel Annoh on percussion, David Evans on tenor sax, Tim Jensen on flute, John Moak on trombone, Steve Christofferson on melodica, Dick Titterington on flugelhorn, and Brazillian guitarist Marco DeCarvalho.
Special guest vocalist Susannah Mars joins Rebecca in a duet performance of Becky's own hilarious song, "You Make It Look So Easy."
The new CD is garnering some great reviews!
You can see Rachel Lidskog-Lim and Jack Lim dance to the title tune, "Moonshadow Dance," on YouTube on the Cherry Pie Music TV channel.
MOONSHADOW DANCE the CD is available in the iTunes store, at Apple Music and Amazon, or directly from Rebecca Kilgore.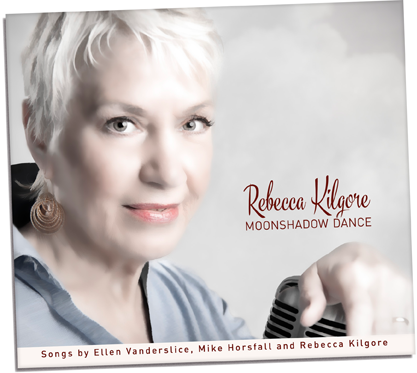 Click here to read more about the making of MOONSHADOW DANCE.
Rebecca Kilgore's sparkling vocal sets the mood for romance for Rachel Lidskog-Lim and Jack Lim of Dance With Joy Studios. Moonshadow Dance is an award-winning song written by Ellen Vanderslice and Mike Horsfall. This recording is the title track of a CD featuring Randy Porter on piano, Tom Wakeling on bass, Todd Strait on drums, Mike Horsfall on vibes and Dan Balmer on guitar. Recorded and mixed by Mike Moore of Dead Aunt Thelma's Studio, Portland, and mastered by John Golden, Golden Mastering, Los Angeles. The arrangement is by Mike Horsfall. Video by Michael Turner of Real Light. Special thanks to Jim and Eva MacLowry!